Decisions. What are they? How do they affect us?
I attended a marketing meeting when my husband, our partners, and I started our company years ago. The marketer restored more business power to us than we'd realized available simply by defining the word decide.
Let's break it down.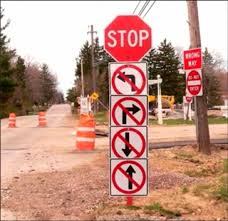 DECISIONS DEFINITION
According to online Dictionary.com, the origins of decide show a typical blend from varied parts of old Europe. Figure around 1350-1400. When you decide anything, you literally "cut off" or "kill" all other options. How empowering! How simplifying, too! http://www.dictionary.com/browse/decide?s=t
de-"off" (see de-) + caedere "to cut" (see -cide) word-forming element meaning "killer," from French -cide, from Latin -cida "cutter, killer, slayer."
Mild fascination with the "kill" part of the definition had recently been rekindled, since I face a decision about which fictional characters are killed in the romantic suspense trilogy I'm writing. In fact, the marketer had then stated, once I decide on something, I've essentially "cut off" all other options, killed them, gone, vanished! That's both intimidating and inspiring simultaneously.
W H O A !!!
Take a moment to consider that fact, and how crazy impactful this is! It suddenly makes wavering look wimpy. It forced me to consider choices I'd claimed to make. Had I, in reality, cut off, even completely dismissed, all other options and made a singular decision? Or had I vacillated about a character's departure from my series or some commitment, much like Brett Favre's retirement decisions from football? We usually aren't aware of how our indecisiveness affects those around us.

 EXAMPLES
For example, in my first novel, G.A.S.P., what appeared to be a small decision by the two main characters, Julie and Dane, changed, even threatened, lives in an unpredicted ripple effect. How different might the story have been with different choices?
Sometimes decisions can be easy (to eat worms vs. spaghetti); others, miserably challenging or even made in haste (i.e. stay in a relationship or leave it; diets and food choices; exercise or couch potato; iPhone or Samsung — okay maybe this one isn't difficult right now — but you get what I mean).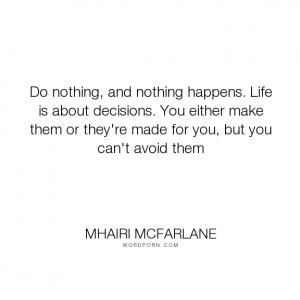 As American voters, we're now faced with voting on community propositions, local and state oppositions, not to mention one of the wackiest and most contentious Presidential elections in our country's history. I'm not getting political on you, just observant. As I poll friends and strangers alike in my daily local and national travels, a curious consensus has thus far been struck: we're concerned no matter how we vote.
There are always those on the other side of the fence; they've made decisions. American theologian and Hollis Professor of Divinity at Harvard University, Harvey Cox, clarified: "Not to decide is to decide." In The Alchemist, author Paolo Coelho described when someone makes a decision, unexpected adventures may happen. http://standardwisdom.com/guydownthestreet/2010/12/alchemist-selected-quotes/
IN CONCLUSION
Do your best to assess facts and meaningful ramifications, and then make as logical a decision as possible… even through a process of elimination.  But DECIDE!
To understand its power, reestablishes your own significance — remarkable, right?
P.S. Go ahead! Get it over with! Make a decision and vote!
https://rjillmaxwell.com/wp-content/uploads/2016/07/jill-maxwell-logo-2-07-300x65.png
0
0
R. Jill Maxwell
https://rjillmaxwell.com/wp-content/uploads/2016/07/jill-maxwell-logo-2-07-300x65.png
R. Jill Maxwell
2016-10-30 18:15:18
2016-10-30 15:29:11
DECISIONS DECISIONS! DECIDE ALREADY!